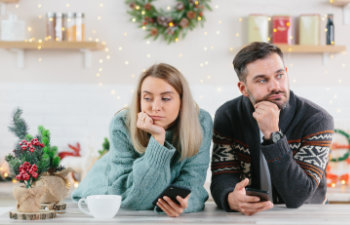 The holiday season, often portrayed as a time of warmth, love, and family togetherness, can paradoxically result in an increased demand for divorce lawyers in the New Year. While many couples do find joy and happiness during this time, the pressures and dynamics of the holiday season can also expose or exacerbate existing marital issues, leading some to consider divorce as a viable option. Here are several reasons why the holiday season can lead to an increased need for divorce lawyers once the season comes to a close.
Heightened Stress Levels
The holiday season can bring about a surge in stress, whether due to financial pressures, the demands of gift shopping, or the effort required to plan and host gatherings. For couples already experiencing tension in their marriage, these added stressors can push them to a breaking point, leading to discussions of divorce in the new year.
Unrealistic Expectations
The holidays often come with lofty expectations of joy and perfection. Couples may feel immense pressure to create the ideal holiday experience, from decorating their homes to planning gatherings and exchanging gifts. When these expectations are not met, feelings of disappointment can intensify existing marital issues.
Family Dynamics
Spending time with extended family during the holidays can be a double-edged sword. While it provides an opportunity for joy and bonding, it can also expose couples to challenging family dynamics and unresolved issues with in-laws or other family members. These issues can ignite or worsen conflicts in the marriage.
Reflecting on the Relationship
The conclusion of one year and the start of a new one often prompts individuals to reflect on their lives, including their relationships. The holiday season can be a time when spouses ponder whether their marriage is truly fulfilling and whether it aligns with their personal and emotional needs. These reflections can lead to discussions of separation or divorce in the new year.
Escalating Conflicts
The combination of heightened emotions, financial strain, and increased alcohol consumption at holiday gatherings can lead to escalated conflicts between spouses. Arguments and misunderstandings that occur during this time can contribute to a breakdown in communication and further strain the marriage.
Domestic Responsibilities
Preparations for the holidays, including decorating, cooking, and hosting guests, can lead to an unequal distribution of domestic responsibilities. When one partner feels overwhelmed or unsupported, it can become a source of contention and dissatisfaction.
Infidelity and Temptation
The holiday season, with its office parties, social gatherings, and increased socializing, can create opportunities for infidelity. The emotional connections formed during this time can lead some individuals to consider divorce in the new year as they explore new relationships.
Child-Centered Disputes
Disagreements about parenting styles, gift-giving, and family traditions can become particularly contentious during the holiday season. Couples with differing opinions on child-rearing may find themselves at an impasse.
While the holiday season can lead to an increase in divorce inquiries after New Year's Day, it's essential to recognize that it's rarely the sole cause of divorce. Instead, it often acts as a catalyst that highlights pre-existing issues and conflicts within the marriage that may have been festering for months or years. Consulting a divorce lawyer is advisable if the decision to end the marriage is reached, as they can provide legal expertise and guidance throughout the process. If this holiday season makes you realize it is time to end your marriage, contact our legal team at Rowsey & Stelter, Attorneys at Law. Call our office in Atlanta, GA, to schedule a divorce consultation.
Posted on behalf of Rowsey & Stelter, Attorneys at Law
295 W Crossville Road,
Building 100, Suite 110,
Roswell, GA 30075
Phone: (770) 993-5317
Monday - Friday 9:00 AM – 5:00 PM
Saturday Closed