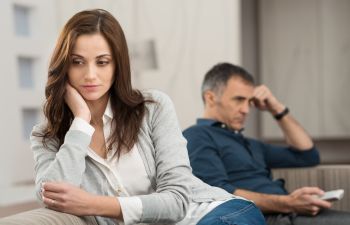 What Is the Difference Between Separation and Divorce?
When couples reach the brink of their patience and can no longer maintain their marriage, they can end their relationship in one of two ways; they can either divorce or legally separate. Both divorce and legal separation are legally enforceable actions, however they have different purposes. Many couples opt to divorce when they have reached the determination that the relationship is irretrievable beyond repair.
Divorce dissolves, or ends, a marriage contract. Divorce is final and irreversible. Many couples choose to file for divorce because it frees them, once and for all, from a relationship they can no longer maintain. Divorce also allows assets to be divided, custody to be determined, and alimony and child support to be ordered. While divorce is the only way to end a marriage, you can also obtain some of the rights and protections of being divorced through legal separation. With legal separation, the rights and responsibilities of either spouse are defined in a legal document. Some couples choose to file for a legal separation, also called a complaint for separate maintenance, in lieu of a divorce for religious reasons or for other beliefs. They may also choose to stay legally married to preserve the rights to benefits only spouses enjoy.
The major difference between divorce and legal separation is that with divorce, the individuals are no longer married and are thus eligible to marry again. With legal separation, however, the individuals cannot marry again until they have finalized a divorce. Many couples choose to informally separate and maintain separate residencies. However, only with legal separation can you request alimony and child support, and legally divide your assets. Legal separation also allows you to take legal action if your spouse fails to provide you financial support or relinquish certain assets. Without legal separation a spouse maintaining a separate residence and in need of financial support may have little recourse.
If you need help deciding which option is right for you and your family, speak with an experienced Georgia family law attorney. While legal separation may provide you certain rights and benefits as a separated spouse, it does not terminate a marriage. If you do not want to put off all hopes of reconciliation, legal separation may be for you. However, you should still approach the legal separation process as you would a divorce, so it is important you consult with an attorney prior to filing.
Are you in the Roswell, GA area and have questions about separation or divorce? Thomas C. Rowsey, P.C. is experienced in family law and will ensure you choose the option that is right for you. Based in historic Roswell, GA, Thomas C. Rowsey Attorneys at Law serves those across the greater Atlanta metropolitan area including Roswell, Alpharetta, Marietta, Milton, Johns Creek, Cumming and Sandy Springs. Contact our office today at (770) 993-5317 or fill out our online form to schedule a free consultation. Offering expert legal counsel in personal injury, criminal defense and family law, Thomas C. Rowsey Attorneys at Law are here to help.
Posted on behalf of Rowsey & Stelter, Attorneys at Law
295 W Crossville Road,
Building 100, Suite 110,
Roswell, GA 30075
Phone: (770) 993-5317
Monday - Friday 9:00 AM – 5:00 PM
Saturday Closed