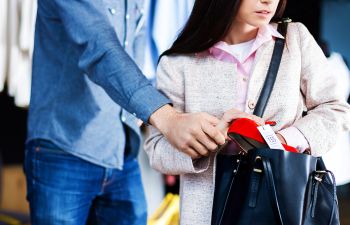 Shoplifting can result in misdemeanor or felony charges. The items that are taken without payment, and more specifically, their value, will typically dictate the severity of the situation for the suspected offender. If you have been accused of stealing from a store or similar facility, seeking legal representation is recommended.
A conviction for shoplifting can ruin your life in several ways. The implication that you are a thief can lead to some people deeming you untrustworthy. You may not even know that discrimination is a factor in how you are treated. It is therefore important to consider how others will perceive you as a result of a conviction.
Job Opportunities
Companies that sell or provide physical products may not want to hire you. Employers choose candidates based on a number of criteria; one of which is trust. Whether you meant to take items without paying or not, the stigma will follow you everywhere you go.
An interviewer may not even disclose the true reason for rejecting your application. Once you disclose a conviction for shoplifting, it could put you out of the running for your dream job. Minors who have been arrested more than once for shoplifting offenses risk a future of rejected job applications.
Personal Relationships
In many cases, shoplifters take items out of desperation. However, this can lead to rifts in personal relationships. Family members and friends may not trust you in their homes. The fear that you may steal items that have resale value can ruin friendships.
Fighting a conviction for shoplifting can help restore your reputation. If you absentmindedly took items from a retail establishment, you are not a thief. With the right legal representation, you can fight charges and clear your name.
Shoplifting Legal Consultation
Contact Rowsey & Stelter today if you have been arrested for shoplifting in Georgia. We understand the stress you are under. Our legal team can provide advice, experience and representation. Do not allow a criminal conviction to ruin your life – call our offices today.
When you trust Rowsey & Stelter to represent you, we will fight to reduce or eliminate shoplifting charges. Reach out for a consultation today.
Posted on behalf of Rowsey & Stelter, Attorneys at Law
295 W Crossville Road,
Building 100, Suite 110,
Roswell, GA 30075
Phone: (770) 993-5317
Monday - Friday 9:00 AM – 5:00 PM
Saturday Closed