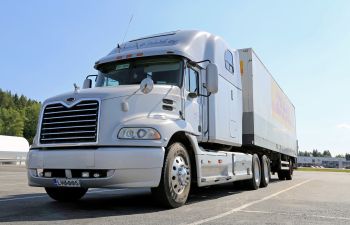 Special Considerations for Trucking Accidents
Filing a personal injury claim after being involved in a minor car accident can be a fairly straightforward process. Accidents involving commercial trucks, however, can be fraught with complications most people aren't able to navigate on their own. Unlike private automobiles, commercial trucks and truck drivers are under strict state and federal regulations. These regulations are in place to protect other drivers on the road but can require special considerations when dealing with a personal injury claim. Knowing what these special considerations are can help you get a better understanding of what you are up against if you are filing a claim.
Trucking accidents are unique in that they involve laws and regulations that are specific to the trucking industry. There can be several liable parties in a commercial trucking accident. The driver could have been negligent or the trucking company could have ignored safety regulations by having their driver surpass their hours of service caps. The truck itself may have had a defect that contributed to the accident as well. Having more than one liable party can help ensure you receive full compensation for your losses, but it can also complicate matters significantly. It is highly advised you work with a Georgia personal injury attorney with experience handling commercial trucking accidents for this reason.
Trucking industry regulations can work to your advantage in a personal injury claim. For example, trucking companies are required to keep accurate logs of all accidents and safety violations and submit this information to the commissioner of transportation. An attorney can request the records of the specific trucking company to establish whether or not the company had a history of accidents or violations. Trucking industry insurance policies also differ from passenger vehicle policies, making it even more important you have someone with a thorough knowledge of the trucking industry help you with your claim.
Trucking accidents tend to result in more severe injuries than private auto accidents do. Commercial trucks such as tractor trailers can have a gross vehicle weight several times that of a passenger car and have limited visibility. They have the potential to cause significant damage to a car because of these factors. If you suffered catastrophic injuries or a permanent disability as a result of your truck accident, the compensation you receive in your claim will undoubtedly make a huge difference in your life. Speak with an attorney if you have been involved in a trucking accident to ensure you receive fair compensation.
If you've been involved a trucking accident, Thomas C. Rowsey, P.C. can advise you on your rights to compensation and your options for seeking recovery from all the liable parties. Experienced in personal injury law, attorney Thomas C. Rowsey, P.C. serves those across the greater Atlanta metropolitan area who need assistance in handling their personal injury claims.
Based in Roswell, GA, Thomas C. Rowsey Attorneys at Law serves those across the greater Atlanta metropolitan area including Roswell, Alpharetta, Marietta, Milton, Cumming, Dunwoody, Johns Creek and Sandy Springs. Contact our office today at (770) 993-5317 or fill out our online form to schedule a free consultation. Offering expert legal counsel in personal injury, criminal defense and family law, Thomas Rowsey, Attorneys at Law are here to help.
Posted on behalf of Rowsey & Stelter, Attorneys at Law
295 W Crossville Road,
Building 100, Suite 110,
Roswell, GA 30075
Phone: (770) 993-5317
Monday - Friday 9:00 AM – 5:00 PM
Saturday Closed