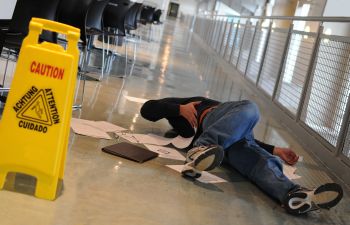 Did you know that slips and falls are responsible for a high number of serious injuries and deaths every year? Whether you are at home, shopping or at work, a slip or fall can happen at any time when you least expect it. There are hazards that can increase fall risks and ways you can protect yourself from injury. There are also times when a business or property owner are liable for slip and fall injuries due to not protecting others on their property. Here are some tips everyone can follow to help prevent slip and fall injuries.
Slippery Floors and Sidewalks
Water and ice are more common problems in the fall and winter, making floors, sidewalks and streets more slippery. The transition areas from inside to outside tend to be the most dangerous when it comes to slippery surfaces. It is important to have a good rug inside doorways to wipe off feet before stepping on the inside surface to avoid slips and bringing in water on your shoes. Floors in public places need to be mopped to remove excess water when needed. Outside, sidewalks and parking areas need to be kept clear of ice to reduce dangerous falls.
Trip Hazards
Loose carpeting, cluttered floors, uneven sidewalks, damaged steps and other hazards on the ground can cause a serious fall. It is important for all property owners to maintain their floors, walkways and stairs to avoid slips and falls by guests and customers. If a person falls due to a hazard that should have been removed or repaired by a property owner (business or residential), the owner may be responsible and liable for any injuries that occur.
Stairway Maintenance
Poorly maintained stairways can cause the worst fall injuries, including broken bones, traumatic brain injuries and more. Businesses and home owners need to ensure railings, steps and flooring are safe to use, and repair issues immediately to avoid serious slip or fall injuries.
Legal Advice for Slip and Fall Injuries
Slip and fall injuries are covered under premises liability laws in Georgia. Property owners are responsible for maintaining a safe environment for those who visit their property. If you sustain a serious injury like a broken bone or TBI due to a fall caused by a slippery floor, icy sidewalk, damaged stairway or other property hazard, contact our legal team at Rowsey & Stelter Attorneys at Law. We will listen to your case and offer advice on whether you may be eligible to file a premises liability claim to be compensated for your injury.
Posted on behalf of Rowsey & Stelter, Attorneys at Law
295 W Crossville Road,
Building 100, Suite 110,
Roswell, GA 30075
Phone: (770) 993-5317
Monday - Friday 9:00 AM – 5:00 PM
Saturday Closed