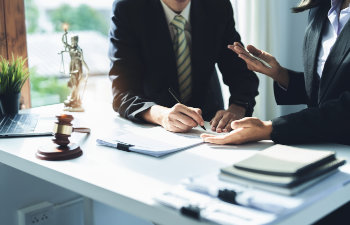 If you have been injured in an accident or by someone's negligence, you can receive compensation for a wide range of damages, including loss of income. You will need to prove your loss in court with detailed documentation, and there are multiple ways you can prove it. Here is everything you need to know about proving loss of income in a personal injury claim.
Proof from Your Employer
Lost wages from your employment can include your regular pay, overtime pay, paid vacation time, bonuses and commissions. You may want to give your lawyer copies of your pay stubs before and after the incident occurred. Other ways to prove loss of income in a personal injury claim is with your past W-2 statement or with a Loss of Wages letter from your employer. This letter should include your job title, pay rate, the accident date, time missed and how many hours you work each week. This can help show the difference an injury has caused with your ability to work.
Self-Employment Proof
Proving lost wages as a self-employed individual can be challenging. If you are self-employed, you may have to provide additional information to prove loss of income in a personal injury claim. You may need to submit previous tax returns, as well as invoicing statements for a few months prior to your injury. Include invoicing statements from the same time period during previous years to show the differences the injury made. Bank statements from your business account can be beneficial to boosting your claim, but you may want to black out account numbers from third party individuals to protect privacy.
Experienced Legal Assistance for Your Personal Injury Claim
If you are considering the process of filing a personal injury claim, you may want to consult with an experienced attorney to receive the compensation you deserve. There may be other documentation you need to provide and these types of claims can be challenging. Rowsey and Stelter, Attorneys at Law, can help you explore your options and recommend the best course of action for your unique circumstances. Request a consultation to discuss your case today.
Posted on behalf of Rowsey & Stelter, Attorneys at Law
295 W Crossville Road,
Building 100, Suite 110,
Roswell, GA 30075
Phone: (770) 993-5317
Monday - Friday 9:00 AM – 5:00 PM
Saturday Closed