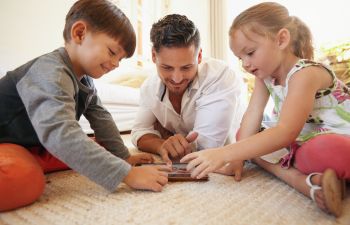 The decision to divorce is a difficult one. No couple enters marriage considering that it may not last forever. When children are involved, divorce takes on a whole new meaning. The dissolution of a marriage can make children feel less secure about their place in the world, and they may start to exhibit signs of stress. There are ways to protect your children during the divorce phase and help them navigate the changes.
Words Matter
Divorce can bring out the worst in people. It can be easy to criticize the other parent, but it is vital to keep your words kind. Resist the urge to speak badly of your former spouse if your children are within earshot. Make sure you are in a private setting if you are speaking by phone to your attorney and keep adult conversations away from your children. Don't use your children as messengers between you and the other parent. Children need to be removed from the battles as much as possible.
Encourage Time With Other Parent
If you are fortunate to have a former spouse who is actively involved with your children, continue to encourage that relationship. Make sure time sharing is liberal, and encourage your children to spend time with the other parent. This helps children feel secure that both parents will be there to love and support them.
Keep Things Normal
Divorce is the ultimate roller coaster ride. It can cause upheaval in every area of your life. It is important to keep kids on their normal schedule as much as possible. Take the vacation you had planned, continue taking them to dance class or make time for soccer practice. If kids see that their normal schedules will be followed, they will feel secure in their relationship with you and the other parent.
Divorce impacts the family in ways no other situation will. Make sure to guard your children against the trauma. The most important thing of all is to make your children feel loved. If you are facing divorce, Rowsey & Stelter are here to help. Visit us here to learn about our firm and read about our practice areas. We are here to bring the expertise you need to get the results you want.
Posted on behalf of Rowsey & Stelter, Attorneys at Law
295 W Crossville Road,
Building 100, Suite 110,
Roswell, GA 30075
Phone: (770) 993-5317
Monday - Friday 9:00 AM – 5:00 PM
Saturday Closed