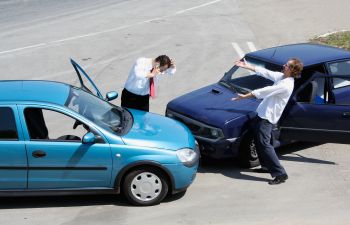 Establishing Fault in Auto-Accident Cases
One of the most important elements of an auto-accident case is determining fault. The person at fault is liable for the losses the injured party sustained. A person can be at fault for an accident due to his or her negligence, recklessness, or intentional behavior. Proving who was at fault may take some work, but it is necessary in order to file a personal injury claim.
In some accidents, liability may be clear. Often enough, however, liability is disputed and will need to be proven. The police or crash report from your accident will have some indication of who was at fault. Statements from you or the other driver made at the scene of the crash, diagrams of the positioning of the vehicles in relation to the road, road conditions, and the presence of any traffic signals, signs, or warnings that either driver may have been subject to may be included in the report.
If fault isn't already clear, getting a copy of this report will be a good first step toward building your case. Remember, the burden of proof of liability is on you as the claimant. The responding officer may have written a ticket for the other driver, and this could also support your liability claim.
You may need to submit further documentation if the insurance company continues to dispute liability after reviewing the police report. Statements from witnesses to the accident may help clarify any liability determinations, and photos from the scene of the accident may be enough to elucidate who was at fault. It is important to keep in mind that you could hold a portion of the liability even if you weren't ticketed. If the insurance company finds you partially at fault for the accident, your rights to compensation will be affected.
You may wish to speak with an experienced Georgia personal injury attorney if you have been involved in an auto accident where there is a dispute over who was at fault. An attorney with experience handling auto-accident cases will know where to look for evidence of liability. He or she can also help you gather the information needed to prove fault.
Have you been in an accident and have questions or concerns about proving fault? Thomas C. Rowsey, P.C., experienced personal injury attorney, can assist you with proving fault in your case and will advise you on your rights to recovery. Based in Roswell, GA, Thomas C. Rowsey Attorneys at Law serves those across the greater Atlanta metropolitan area including Roswell, Alpharetta, Marietta, Milton, Cumming, Dunwoody, Johns Creek and Sandy Springs. Contact our office today at (770) 993-5317 or fill out our online form to schedule a free consultation. Offering expert legal counsel in personal injury, criminal defense and family law, Thomas C. Rowsey Attorneys at Law are here to help.
Posted on behalf of Rowsey & Stelter, Attorneys at Law
295 W Crossville Road,
Building 100, Suite 110,
Roswell, GA 30075
Phone: (770) 993-5317
Monday - Friday 9:00 AM – 5:00 PM
Saturday Closed