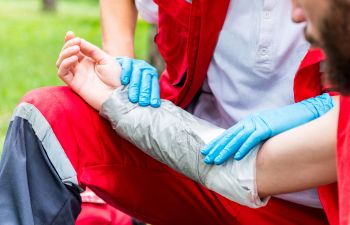 Revelers all around the country come out to celebrate the New Year. Friends and families come together to feast, party and count down the seconds to midnight on December 31. Unfortunately, events can turn sour when overindulgence or negligence leads to accidents.
This time of year sees an increase in certain factors that can contribute to accidents. Negligent actions can lead to injuries and fatalities. While it is important to make memories with family and friends, we all have a responsibility to keep each other safe.
Winter Weather
Winter rain and wind storms can make Roswell, GA driving conditions treacherous. Pedestrians can also suffer injuries due to inclement weather conditions. If you are involved in a car crash, the other driver may hold some of the responsibility for the accident. You can consult with a personal injury lawyer if you wish to pursue compensation for injury related costs and damages.
Impaired Driving
New Year driving impairments are often the result of alcohol or drug abuse. Getting behind the wheel while under the influence is reckless and illegal. In many cases, drivers are in control of a vehicle while still above the legal limit the day after celebrating. Lack of sleep is also a common factor in accidents involving New Year revelers.
Firework Injuries
Fireworks displays are a common element of New Year celebrations. Improper safety measures can lead to accidents resulting in a range of injuries. Chemical burns, lost limbs and blindness are some of the injuries that may stem from negligent use of fireworks in Georgia.
Pedestrian Accidents
The first day of the New Year can be dangerous for pedestrians. Those who are under the influence may suffer trips and falls. There is also an increased risk of being hit by a drunk or otherwise impaired driver. Partygoers are advised to use a reliable ridesharing service to get home safely. However, if you must walk, wear reflective clothing to increase visibility.
If you have started the New Year with accident injuries in Georgia, reach out to Rowsey & Stelter, Attorneys at Law for a consultation today.
Posted on behalf of Rowsey & Stelter, Attorneys at Law
295 W Crossville Road,
Building 100, Suite 110,
Roswell, GA 30075
Phone: (770) 993-5317
Monday - Friday 9:00 AM – 5:00 PM
Saturday Closed