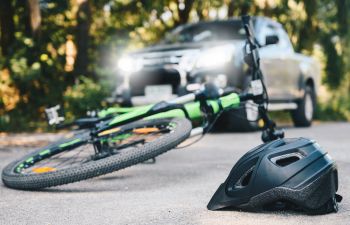 Riding your bicycle can give you an opportunity to enjoy some time outdoors and improve your fitness level. For many of our neighbors living in the greater Roswell area, bicycles offer transportation, leisure enjoyment and a way to relieve stress. However, most riders are also sharing roads with cars and trucks that can cause serious harm to bicyclists. If you are hit by a motor vehicle, do you know if your insurance can cover your bike accident injuries?
Most people carry auto insurance to protect themselves if they cause injury or property damage while driving. While that is the main point of auto insurance, there are other coverage options. One of the options that can be added to your policy is uninsured/underinsured motorist (UM) coverage. This is an important area of extra coverage that can protect you in case the other driver does not have adequate insurance to cover damages they cause during an accident.
UM Coverage and Bicycle Accidents
Your auto insurance may cover your injuries if you are hit by another driver whether you are driving your vehicle or not. If you are riding a bike and a driver hits you, they may be liable for your injuries. But what if they do not have insurance or your injuries are more than their insurance covers? This is when your own UM coverage can be a benefit. Most UM coverage will also protect you when you are riding your bike if your injuries are caused by a motor vehicle.
UM coverage can also be used in hit and run bicycle accidents. If the driver that hits you flees the scene, you could be facing covering your injuries on your own. Many UM policies also cover hit and run accidents that occur when the insured person is riding a bike or even traveling on foot.
One of the most economical options to provide extra coverage for you and your family is with uninsured/underinsured motorist coverage, especially if you are a frequent bicycle rider. Check your policy to make sure you have UM coverage for extra protection.
If you are involved in an injury accident involving a negligent driver, let our team at Rowsey & Stelter help you fight for your right to compensation. Call our office in Roswell, GA to schedule a free legal consultation to discuss your injury claim.
Posted on behalf of Rowsey & Stelter, Attorneys at Law
295 W Crossville Road,
Building 100, Suite 110,
Roswell, GA 30075
Phone: (770) 993-5317
Monday - Friday 9:00 AM – 5:00 PM
Saturday Closed