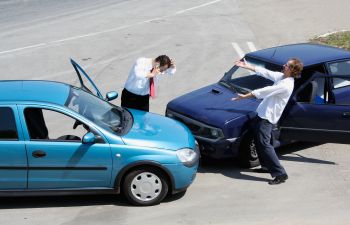 Can I File a Lawsuit if I'm Partially at Fault?
To file a personal injury lawsuit against another party, you must demonstrate that you were injured or suffered some loss as a result of their negligence, strict liability, or intentional behavior. Most personal injury cases will stem from the principal of negligence. The negligent party is the liable party, or the party at fault. However, in Georgia personal injury cases there may be more than one negligent party, and thus more than one party at fault. If you are partially at fault, this doesn't necessarily mean you cannot be compensated for your losses, however it may mean you are no longer entitled to full recovery.
In person injury claims resulting from auto accidents, it is not uncommon for both drivers hold a percentage of the fault. When two cars collide, it can be hard to decipher who caused the accident and to what extent. So what happens when both parties contributed to the cause of the accident? Generally, each party will be able to recover damages, according to the percentage of fault they hold. For example, if you were involved in an auto accident with another driver, and the insurance company or courts decided you were 25% at fault for the accident, you would be eligible to recover 75% of your damages. However, under Georgia state law, you are only entitled to recover damages if you are less than half at fault. You would not be entitled to any compensation if you were found 50% at fault, but you would if you were found 49% at fault. This is called the modified comparative fault rule. Partial fault cases can be complex.
Speak with an experience Georgia personal injury attorney if you have been injured as a result of someone else's negligence but may be partially at fault. An experienced attorney can assess your case and advise you on how your percentage of fault may affect your claim and what your rights are regarding the recovery of damages. In some cases, it can be difficult to establish the exact percentage of fault each party holds. Because your percentage of fault has the potential to greatly affect what compensation you can receive, it is advisable you discuss your case facts with an attorney.
Are you in the Roswell area and have questions regarding a personal injury claim? Thomas C. Rowsey, P.C. is experienced in personal injury law and will work hard to ensure you the compensation you deserve. Based in historic Roswell, GA, Thomas C. Rowsey Attorneys at Law serves those across the greater Atlanta metropolitan area including Roswell, Alpharetta, Marietta, Milton, Johns Creek, Cumming and Sandy Springs. Contact our office today at (770) 993-5317 or fill out our online form to schedule a free consultation. Offering expert legal counsel in personal injury, criminal defense and family law, Thomas C. Rowsey Attorneys at Law are here to help.
Posted on behalf of Rowsey & Stelter, Attorneys at Law
295 W Crossville Road,
Building 100, Suite 110,
Roswell, GA 30075
Phone: (770) 993-5317
Monday - Friday 9:00 AM – 5:00 PM
Saturday Closed