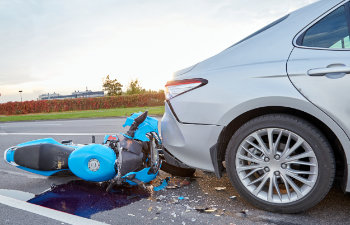 Summer is the ultimate season for motorcyclists. Whether you use your bike as an economical way to get to work or ride for pure pleasure, you are more likely to ride in August than in any other month of the year. Statistically, August has the highest number of motorcyclists on the road, which also means there is a higher risk of accidents. If you are heading out for a ride this August, you must take extra precautions to stay safe.
August Motorcycle Accident Statistics
The National Highway Traffic Safety Administration (NHTSA) releases statistics annually on motor vehicle accidents, including motorcycle accidents. The most recent motorcycle safety statistics revealed are from 2020, with the highest number of motorcycle fatalities ever recorded since FARS began collecting data. In 2020, there were 5,579 motorcycle fatalities and 82,528 injuries from crashes. The highest number of fatalities occurred in August, which accounted for 14% of all fatalities for 2020.
Since more motorcycles are on the roads in August, the risk of accidents increases. In Georgia, 12% of all motor vehicle fatalities in 2020 occurred in motorcycle accidents, many of them occurring in August. If you are a motorcyclist, it is vital to follow safety rules to reduce your risk of becoming a crash statistic.
Safety Tips for Motorcyclists
Drivers of trucks and passenger vehicles are often unaware of motorcycles on the road. Since they are smaller, they are less visible. The highest number of motorcyclist fatalities by far occur when the motorcycle is hit from the front, not rear-ended. This often occurs at intersections where a motorcycle turns left across oncoming traffic and is directly hit by another vehicle. Taking extra precautions at intersections is vital to reduce the risk of an injury or fatality accident.
While other drivers cause many motorcycle accidents, there are some ways to protect yourself. According to the NHTSA motorcycle safety statistics, high-risk behaviors contribute to motorcyclist injuries and fatalities. Consider these safety concerns before jumping on your bike for a ride:
36% of motorcyclists killed in 2020 did not have a valid license. Ensure you have the skills to be out on the road with other drivers.
27% of motorcycle fatalities involved alcohol impairment, a higher percentage than any other vehicle type. Never drink and ride.
34% of motorcyclist fatalities occurred when speeding. Slow down and enjoy the ride.
40% of motorcyclists killed in 2020 were not wearing a helmet. Always wear your helmet, even in states that do not have a helmet requirement.
Even if you are a safe rider, you cannot control other drivers on the road. If you become an injury statistic and the other driver caused the crash, you need a lawyer on your side to fight for the compensation you deserve. Contact our team at Rowsey & Stelter, Attorneys at Law, to talk to our legal team about your motorcycle accident injury claim. You may be eligible for compensation for medical costs, lost wages, and other expenses related to your motorcycle injury accident.
Posted on behalf of Rowsey & Stelter, Attorneys at Law
295 W Crossville Road,
Building 100, Suite 110,
Roswell, GA 30075
Phone: (770) 993-5317
Monday - Friday 9:00 AM – 5:00 PM
Saturday Closed