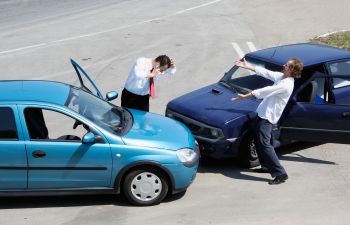 Before a car is taken from the production line and goes on the road, it must be roadworthy. However, the same should also apply to every journey the vehicle takes from that point forward. There are a number of checks that owners should carry out periodically to ensure that a car is safe to drive.
Tire Pressure
Recommended tire pressure is different for every vehicle. The pounds per inch (psi) for a vehicle can be located in the door jamb. A pressure gauge is the typical way to find out whether tires are above or below the recommended level. When you check the psi and find that it is too high, slowly release air until you reach the recommended number. If the pressure is too low, add air until the number matches the psi for the vehicle.
Tire Condition
You can identify damage to the outside of a tire quite easily by carrying out a visual examination. Measuring tread depth for wear and tear is also important. Tread should be approximately 2/32 of an inch. There are ways you can test the tread yourself, but it is always best to have tires checked by a professional mechanic, as there are a number of potential issues that could lead to loss of traction or a blowout.
Pay Attention to Warning Indicators
Modern vehicles have a lot more warning indicators than their predecessors, which some drivers find frustrating and annoying. In some cases, warning indicators come on for a period of time and then disappear again. This does not necessarily mean that the problem has been resolved. Always have your car checked if warning indicators come on, or take the recommended actions highlighted by the indicator.
Check Fluid Levels
Check your transmission levels every time you get an oil change. Some vehicles may have a dipstick so you can do it yourself. However, in many vehicles it is necessary to have transmission fluid checked during a service. In most cases, coolant should be checked twice a year, with the start of summer and winter being ideal times to perform checks. You should also check your brake fluid at least once a year or when you get an oil change.
Check Brakes
A screeching sound or spongy feeling when you brake indicates that your brake pads are worn down or damaged. You can carry out a visual check by looking at your brake pads to see if they are less than a quarter of an inch thick. However, it is always best to have your brakes checked by a mechanic to make sure that your car is roadworthy.
If you have been involved in an accident with another driver whose car was not roadworthy, reach out to Rowsey & Stelter Attorneys at Law for a consultation.
Posted on behalf of Rowsey & Stelter, Attorneys at Law
295 W Crossville Road,
Building 100, Suite 110,
Roswell, GA 30075
Phone: (770) 993-5317
Monday - Friday 9:00 AM – 5:00 PM
Saturday Closed